Just seconds ago in the Knesset, a motion of confidence in the new coalition passed 60-59 with one abstention.
Binyamin Netanyahu, after 12 years, had to vacate his seat on the Government Bench and take a seat as an ordinary MK. So did most other ministers, except the several holdovers such as Denfense Minister Binyamin "Benny" Gantz.
And now incoming PM Naftali Bennett took the oath.
The first step of the procedure was the vote on a new Speaker of the Knesset: former Jerusalem police commissioner Michael "Miki" Levy, the candidate of the coalition, won that vote handily with 65 votes (including a few from the opposition). He was then handed the hammer by outgoing Speaker, Yariv Levin. He skipped his acceptance speech so a hospitalized MK, who and came especially to the Knesset for the confidence vote, could vote immediately and then be brought back to the hospital.
Presently, the ministers are sworn in one by one, in alphabetical order.
Netanyahu is down for now… but not out.
A few firsts:
unprecedented 2 minority ministers (1 Druze, 1 Arab)
first-ever Ethiopian Jewish minister (Pnina Tamano-Shata, minister of Immigrant Absorption)
unprecedented number of woman ministers, including in key ministries (such as Ayelet Shaked as Interior Minister and Yifat Shasha-Biton as Education Minister)
first-ever Orthodox PM
… but also…
smallest 'home' faction ever for the PM (just 6 MKs)
not even 61 MKs
…
Of course Netanyahu will try to stay relevant and make [his former associate!] Bennett's life hell. Even without that, within 5 months the new government will have to get a budget approved with 61 MKs, or Bennett is done.
So I would not rush to eulogize Netanyahu — we haven't seen the last of him.
Honestly, for many like myself it's a bittersweet moment. Netanyahu has been a talented leader and both friend and foe admire his political cunning — but after 15 years as PM (3 years 1996-1999 and then the last 12 years) he had clearly developed a case of "Louis XIV syndrome" (l'état, c'est moi). And in the process of, slicha al ha-bitui/pardon the expression, shafting one political ally after another for short-term political gain, his mounting paranoia that "they're out to get me" (yes, many were, but not all) became a self-fulfilling prophecy. The coalition now sworn in is an extraordinarily heterogenous one — hard left, moderate left, center, and right-wing; from hardline secularist to modern Orthodox; from hardcore Jewish nationalist to the Islamist United Arab List (Bennett back-handedly praised Netanyahu for having "koshered" Mansour Abbas by being the first to offer him to join hist coalition);…
If he is brought down permanently, it will likely be because of a putsch inside the party. Former Jerusalem mayor Nir Barkat as well as the outgoing health minister (Yuli Edelstein) and finance minister (Israel Katz) have all thrown their hats into the ring for the party leadership primaries.
DEVELOPING…
UPDATE: Tal Schneider in the Times of Israel sees Netanyahu unseated by a new generation, many of them with media backgrounds. The only minister from the older generation is Diaspora Minister Nachman Shai, a former IDF spokesman, now 74 years old (Netanyahu is 71). The others range from their late thirties to their early sixties.
While Netanyahu has been perceived throughout the years as a wizard of tech and media, many of his successors built their public fortune in the news industry. Lapid, Labor's Merav Michaeli, Meretz's Nitzan Horowitz, and New Hope's Gideon Sa'ar all worked as news professionals as columnist, reporter or anchor.
And key figures were Netanyahu's apprentices. (The one trait about Netanyahu I personally disliked most was not one that "world public opinion" cared about, but that he systematically cut down any of his own associates who became too strong.)
Bennett was Netanyahu's chief of staff, Yamina's Ayelet Shaked was director of Netanyahu's political office, and Avigdor Liberman was Likud's director-general, a senior adviser to Netanyahu and a political partner when Likud and Yisrael Beytenu ran on a combined list in the 2013 elections. Blue and White head Benny Gantz was the IDF chief of staff under Netanyahu, Lapid was a senior minister in his 2013 government, and New Hope's Sa'ar was Netanyahu's cabinet secretary as well as a senior minister under him.

And further down the list of New Hope lawmakers, the connections continue: Ze'ev Elkin was a minister in Netanyahu's cabinet as well as a confidant of the premier, Yoaz Hendel served as Netanyahu's communication director and Zvi Hauser is a former cabinet secretary.
The lawmakers making up the foundations of Israel's next coalition studied in Netanyahu's academy, learning from the best.

This is the next generation of leaders. They reached this position thanks to him, but also despite him.
Meanwhile, the Jerusalem Post, whose new editor Yaakov Katz has been beating the drum against Netanyahu to such an extent that he alienated many of the paper's longtime readers, published an editorial hard to imagine in the US hyperpartisan mediascape: We must recognize Netanyahu's achievements despite his flaws
[T]here is a Jewish tradition of hakarat hatov – expressing gratitude. Netanyahu is a human being with faults and failings, but he is also someone who has dedicated his life and career to the Jewish state, and has achieved an impressive list of accomplishments.As we have noted, Netanyahu realized early on the need for a broad corona vaccine acquisition and distribution campaign, and he managed to achieve it even as he was being ridiculed by some members of the new government.Netanyahu can also take credit for the Abraham Accords, normalizing relations with the United Arab Emirates, Bahrain, Sudan and Morocco. The impact of these new relations should not be underestimated: they helped create a new Middle East to the benefit of all.

Netanyahu's pushback on the threat from a nuclear Iran was one of the themes that ties his different terms in office: when most of the Western world was far from seeing the threat, Netanyahu was already fighting it.In fact, his approach to this issue played a significant role in preparing the ground for relations with the Sunni Arab states that felt similarly threatened by Iran. Netanyahu was willing to stand up to Barack Obama in a last-ditch effort to prevent the signing of the nuclear deal in 2015. While this angered many Democrats and severely undermined bipartisan support in the US, it was noted by other US allies that similarly felt threatened, such as Saudi Arabia.

As The Jerusalem Post's Herb Keinon has noted, "Everything is interconnected in this 'Bibi doctrine.' … He leveraged Israel's strengths – agricultural expertise, technology, innovation, intel, security expertise – into things that it could provide the world."Under Netanyahu, there were improved diplomatic relations with Russia, China, India, South America and Africa.

It should also be noted that while there was the usual criticism in the UN of Israel's response to the recent Hamas rockets, there were several countries, including Austria, Germany, the Czech Republic, Slovenia and Panama, where the Israeli flag was flown on government buildings in solidarity during Operation Guardian of the Walls. […]

It is too early to say how exactly Netanyahu will be remembered in history, but it's not too early to thank him for his service to our nation. We do not forget his divisiveness but we also do not forget his contribution in transforming Israel into a military and economic powerhouse.
Can you imagine a US major newspaper writing a similar editorial about Trump instead of falling back on infantile "two minutes hate for Emmanuel Goldstein"?
UPDATE 2: there were a few last-minute changes and swaps in the cabinet list. Here is the final portfolio distribution as of 23:30:
Prime Minister: Naftali Bennett (Yamina)
Alternate Prime Minister/Foreign Affairs: Yair Lapid (Yesh Atid)
Deputy Prime Minister/Defense: Benny Gantz (Blue and White)
Deputy Prime Minister/Justice: Gideon Sa'ar (New Hope)

Finance: Avigdor Liberman (Yisrael Beytenu)
Education: Yifat Shasha-Biton (New Hope)
Interior: Ayelet Shaked (Yamina)
Health: Nitzan Horowitz (Meretz)

Transportation: Merav Michaeli (Labor)
Environmental Protection: Tamar Zandberg (Meretz)
Public Security: Omer Bar-Lev (Labor)
Communications: Yoaz Hendel (New Hope)
Economy: Orna Barbivay (Yesh Atid)
Labor; Social Services and Social Affairs: Meir Cohen (Yesh Atid)
Energy: Karin Elharrar (Yesh Atid)
Diaspora Affairs: Nachman Shai (Labor)
Intelligence Services: Elazar Stern (Yesh Atid)
Tourism: Yoel Razvozov (Yesh Atid)
Religious Affairs: Matan Kahana (Yamina)
Culture and Sports: [Yechiel] "Chili" Tropper (Blue and White)
Aliyah and Integration: Pnina Tamano-Shata (Blue and White) [1st-ever Ethiopian Jew in cabinet]
Agriculture and Negev and Galilee Development: Oded Forer (Yisrael Beytenu)
Construction, Ministerial Liaison to the Knesset: Ze'ev Elkin (New Hope)
Regional Cooperation: Essawi Frej (Meretz) [Arab]
Science and Technology: Orit Farkash Hacohen (Blue and White)
Social Equity: Meirav Cohen (Yesh Atid)
Minister in the Finance Ministry: Hamed Amar (Yisrael Beytenu) [Druze]

Knesset Speaker: Mickey Levy (Yesh Atid)
Finance Committee chairman: Alex Kushnir (Yisrael Beytenu)
Foreign Affairs and Defense Committee chairman: Ram Ben Barak (Yesh Atid)
Law and Constitution Committee chairman: [Reform] Rabbi Gilad Kariv (Labor)
Aliyah and Diaspora Affairs Committee chairman: Yair Golan (Meretz)
Several commentators have pointed out that the single most powerful figure in fact, if not in the public eye, will be finance minister Avigdor Liberman from the Russian immigrants party Yisrael Beiteinu, whose associate Alex Kushnir also chairs the Finance committee.
UPDATE 2: Instapundit calls it "another win for the bad guys" and doesn't expect this to end well. I can understand the latter; but as to the former, the one person most responsible for bringing down that undeniably highly talented leader is none other than the same leader himself — or, to be more specific, his egotistic belief in his own irreplacablity, his ceaseless cutting-down of any associate who might become too prominent, and his taking political Macchiavellianism to such extremes that essentially nobody still believed any promise he made.
Even Winston Churchill, whom Netanyahu sees himself as an Israeli version of, and whose ego was as big as Netanyahu's, realized he would have to leave the stage one day. Thus, he carefully groomed a successor (Anthony Eden) over the course of more than a decade in and out of power.[*] Netanyahu, in contrast, simply seems to have been in denial about the fact that his unprecedentedly long tenure (at 15 years total, he is Israel's longest-serving leader in history, outdoing even David Ben-Gurion) would have to come to an end one day, let alone that he planned for who would step into his shoes.
At any rate, he is supposed to have a meeting with the new PM — again, his onetime BFF — this afternoon about the transition of power. Boy, would I love to be a fly on the wall there…
UPDATE 3: via Gil Hoffman on Twitter, this group picture of the new government by press photographer Marc Israel Sellem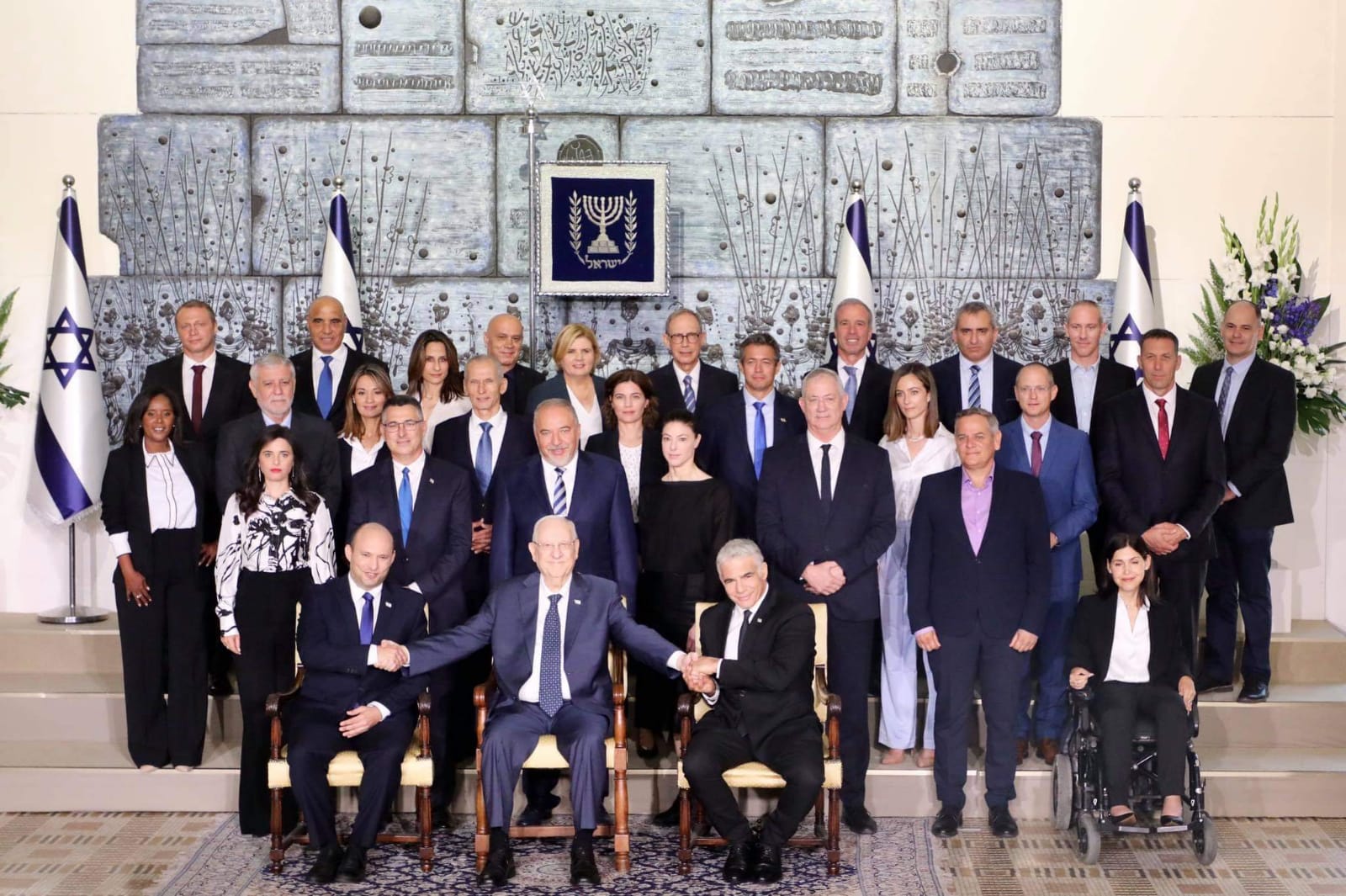 (Sitting between the two alternate PMs is [mostly ceremonial] President Reuven "Ruby" Rivlin.)
[*] Even so, as Andrew Roberts explains in great detail in his priceless biography "Churchill: Walking With Destiny", Anthony Eden finally had to force the hand of the octogenerian Churchill to step down — though this happened away from the limelight, and Churchill was allowed to retire gracefully and to overwhelming public accolades. (He was even offered the Dukedom of London, but turned it down under pressure from his son Randolph Churchill MP who feared he would have to leave the House for the Lords after his father would go on to the hereafter.
Winston, despite no longer having the mental vigor he still had during World War Two, had gotten misgivings about Eden's ability to do the job. Sadly, he proved to be right. However, Eden was succeeded by another Churchill protégé, the pragmatist Harold Macmillan.